Bitaim Pro is an Advance AI Aim Assistance For Carrom Pool Introduces its Latest Version 3.6.63 that is completely Free for Lifetime for All users and its working on Android 13 also working on 2 vs 2 mode new tables. In this Version you can get its New Laserline and Indirect Guidelines called as Superline . Its AI System Guides You To Play All Masters Shots and Win All Matches and Make Unlimited Coins in Carrom Pool and Make You A Proffesional Carrom Player.
If you guys use Lulubox then you know that Lulubox has only single line but in Bitaim you can get multiple lines which makes you very easy to play every shot, you can see in this image below;
BitAim Carrom Pool Aim Assist Guidelines
How to Use Bitaim Pro
If You want to use Bitaim all premium shot for free then you have to Download one more apps that is App Manager and install it in your device. After installing Bitaim and App Manager you need to open Bitaim from App Manager and then you can use its all premium features for Free.
So to download App Manager, Simply you have to come to the homepage of my website. After that you will get a search option in the right side, Click there and type what you want to search, Foe example if you need App Manager then Type this and click on search then you will see this app then just download and install it in your device.
Line Hide Features
Now you can also hide your guideline or laserline in video recording by bitaim Line Hide Features. You have to just adjust the line size and color according to the carrom pool table color which you want to record video.
You need to set its Line Size to 1 and color you can set according to your Table color, after that you can record video by normal screen recorder of your phone. So after doing this setting, if you guys do video recording, then the super line will not appear in your video .
So if any of you are on YouTube and you do not want to show your audience that you are using any such third party tools, then this feature is going to be very beneficial for you.
Extra Premium Shot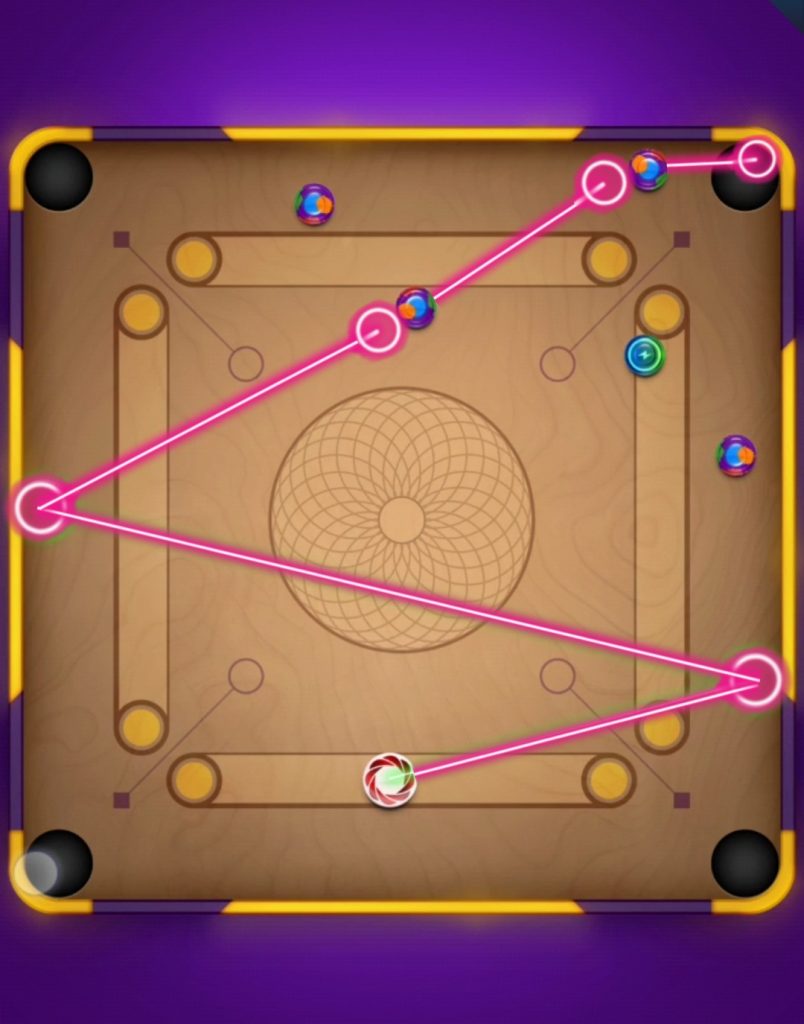 If you want to use Bitaim Pro Extra Premium Shot for Free then you have to open Bitaim from App Manager then you will unlock its all extra pro features for Free. You can also change its laserline or color of simple line and thickness of line according to your preference, you need to just open Bitaim from App Manager and adjust thr line and color setting , then just login your facebook account and turn on its All Brush and Bounce shot.
Note: If You Open Bitaim directly without App Manger you can not see its extra premium shots. So must download app manger and open Bitaim from there.
Click Here to Download App Manager
FAQ
Do bitAIM+ Support In Android 7 Or Below ?
Yes, Bitaim Support from Android 7 to Android 12 in All Devices But Below Android 7 Don't Support. you can Contact their Support Team for any types of Problems relating to Installation.
Can We Use bitAIM + Luluox Together ?
Yes, They Released New bitAIM Version Called bitAIM+ Which Consist A Feature Lulubox Line Extended Turn It ON Before You Click On Start Button To Use In Lulubox . But If You Use its New Superline then no need to Use Lulubox because it is very Advanced than Lulubox.
Do bitAIM+ Support In IOS ?
No, bitAIM+ Is Only For Android Users . But in Future they may introduces its new version for IOS users also. So you need to keep in touch with us to know important updates.
Do bitAIM+ use any type of hack ?
No, bitAIM+ don't use any type of hack it is 100% safe and secure, Its Uses Advanced AI based Image Recognition Techniques that Assist you to Pot all Direct and indirect Shots in Any Tables .
Do We Need To Pay Money To Activate Indirect Or Premium Shots ?
All Direct and indirect shots is Completely free for Lifetime but to Activate Ads Free premium shots You need to Purchase its Premium Plan.
Premium Plan (Ads Free)
Rs.59 –  For 1 Week
Rs.149 –  For 1 Month
Rs.359 –  For 3 Months
Rs.1999 –  For Lifetime
If You want to Buy its Premium Plan Just Open Bitaim , Go to Premium plan and select plan as per your requirements then click on Buy button. After that just put your details and pay through Gpay, Phonepay, Paytm and UPI Option.
Bitaim Not Working
If your phone is not supporting Bitaim or its superline is not properly working in your device then you can use its best alernative available in the market that is Aim Carrom. It has same features like bitaim, it provides direct and indirect guidelines to play carrom pool.
Download Carrom Pool
Do you want to download carrom pool all previous version for 64 bit & 32 bit then You can also easily download it from our website. Just click the link below to see the list of all previous version of carrom pool,
Click Here to Get Carrom Pool All Version List ↵
How to Install & Use Bitaim Tutorial Video
Conclusion
So friends Bitaim is such an amazing and very advanced application through which you can make unlimited coins and gems in your carrom pool ID that too absolutely free. You people must have used a lot of third party tools and applications before this, but Bitaim is completely different from the one that is there. So if you guys want to use all the premium and extra features of Bitaim, if you want to use it for free, then you have to follow the same way as I have told you.
So we hope that you liked this article of ours. If you like this work of ours then you guys like our page and also follow our telegram channel to get free mod apps.